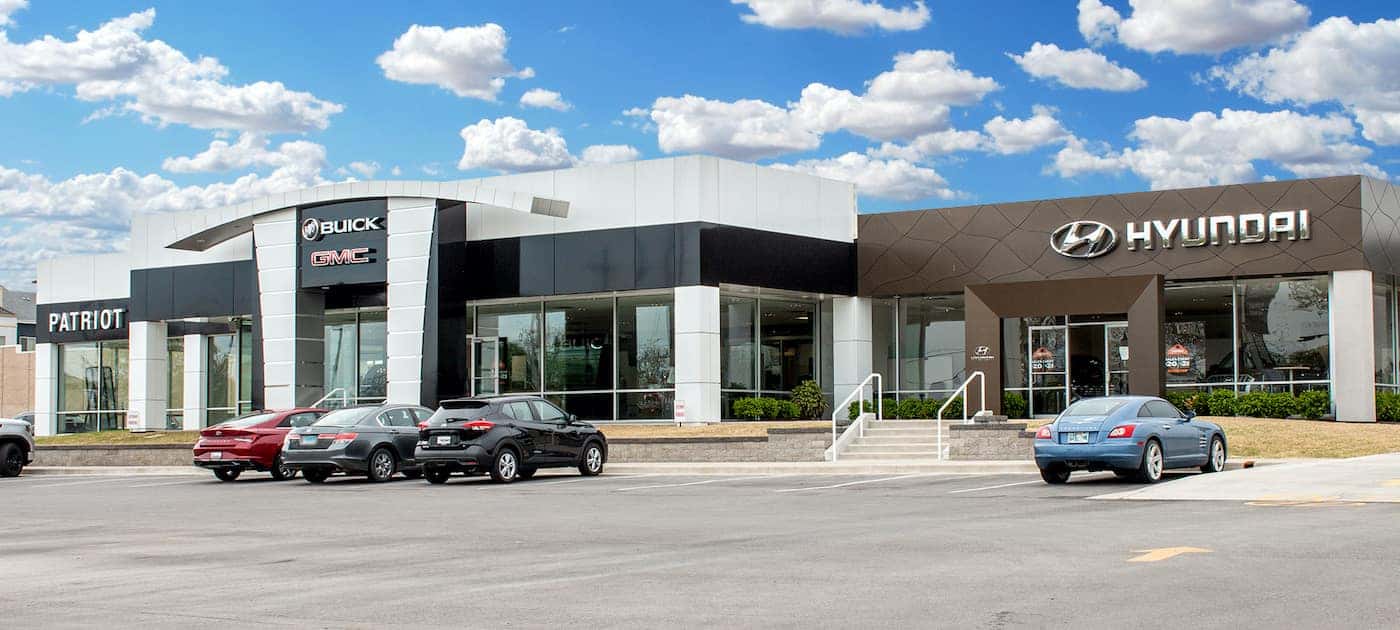 Welcome to
Patriot Hyundai of Bartlesville
Patriot Hyundai of Bartlesville Invites You to Find Your Automotive Match | Proudly Serving Drivers from Bartlesville OK, Owasso OK, Tulsa OK, and Coffeyville, KS
New 2021-2022 and Used Hyundai Models
When was the last time you used the word 'love' to describe how you feel about your car? At Patriot Hyundai of Bartlesville, we hear our customers say it all the time, and for good reason. We offer a wide range of new and used offerings from Hyundai.
New car smell is great, and we've got a range of new 2021-2022 Patriot Hyundai of Bartlesville vehicles that will delight your senses. But we think feel is really where it's at when you're dealing with a new 2021-2022 Hyundai Santa Fe Sport, Elantra, Sonata, Tucson or Santa Fe model. That's why the Patriot Hyundai of Bartlesville sales staff is here to point you in the right direction and to assist you with the next step. After all, once you find Hyundai that looks right to you, you're going to want to get behind the wheel to see if you get that new car spark.
If a new car isn't tickling your fancy, a vehicle from our broad selection of used Hyundai inventory is sure to do the trick. There are many advantages to opting for a pre-owned auto, including a cost savings. Moreover, each car we offer at our dealership in Bartlesville, OK, exceeds our strict standards for quality, reliability, and performance.
Want to Talk Auto Finance? Here at Patriot Hyundai of Bartlesville, We're Ready to Help Drivers Like You with Car Loans and Leases
So, you've found the vehicle you most desire. You want to go home in it. We want you to go home in it. But, all the details must be sorted out when it comes to financing. That's where our car loan and Hyundai specialists step in. We're here to help you by going over every option clearly, and will work hard to find the right plan for you. We want to make your dreams of ownership happen, and this is all part of the Patriot Hyundai of Bartlesville experience we strive for.
We Provide Top-Quality Repairs and Service to Hyundai Drivers
Now, we know that it's critically important for you to invest in quality car care to maintain your vehicle's top-quality and spotless condition over the years. It's for that reason we encourage you to bring your car into our Hyundai Service Center in Bartlesville, OK. We staff expert technicians that employ genuine parts and accessories to repair or service your car efficiently and affordably.
Now, that's just scratching the surface of all we have to offers drivers around Owasso OK, Tulsa OK and Coffeyville, KS! Don't just take our word for it, though. Instead, make it a point to visit Patriot Hyundai of Bartlesville at 2001 SE Washington Blvd in Bartlesville, OK to learn more about our plethora of automotive services today!