The New 2020 Hyundai Accent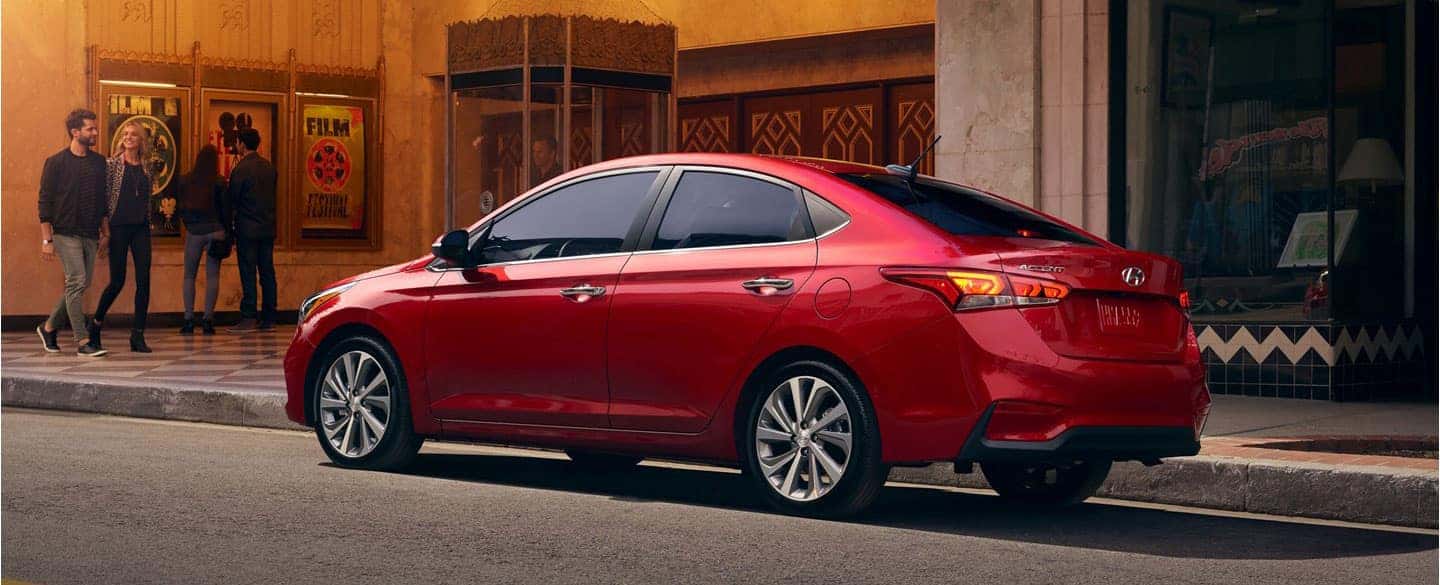 If you're in the market for a subcompact sedan, the 2020 Hyundai Accent is a terrific choice. The Accent gets great fuel economy and despite its compact size, it offers plenty of interior space. If you're interested in finding out more about the key features of the new 2020 Accent, keep reading.
Trim Options
The new 2020 Hyundai Accent is a 4-dour subcompact sedan. It's just 172.6 inches long, which means it'll be easy to maneuver into parking spots. Adding to its subcompact characteristics is its weight, which is anywhere between 2,502 to 2,679 pounds, depending on the transmission. This makes it quite a light car. The wheelbase is 101.6 inches. This means you have plenty of space in the cabin. This sedan is available in 3 trims:
SE Trim
The SE is the base trim, it comes equipped with 15-inch wheels, 60/40 fold-down seats in the back, cloth upholstery, and steering wheel-mounted controls for your convenience. You'll also get to enjoy a 5.0-inch touchscreen infotainment system that has 4 speakers. On this trim, you'll get a 6-speed manual transmission.
SEL Trim
Next on the list is the intermediate SEL trim. This option offers a lot more than the base SE trim. For example, you'll get a standard automatic continuous variable transmission (CVT) and hill-start assist. Other great features include automatic headlights, fog lights, heated side mirrors, sliding center armrest, voice recognition, and a tilt-and-telescope steering wheel for better comfort. The infotainment system has a 7.0-inch touchscreen that comes equipped 6 speakers. Plus, it supports satellite radio, Android Auto, and Apple CarPlay.
Limited Trim
At the top of the list is the Limited trim. You'll get an upgrade from 15-inch wheels to 17-inch wheel. Other features on this trim includes chrome door handles, heated front seats, leather-wrapped steering wheel, leather-wrapped shift knob, and LED lights for the headlights, taillights, and daytime running lights.
You'll also get more convenience with a proximity key with push-button start and hands-free trunk with auto-open. The safety features that you'll get with the Limited trim are forward collision-avoidance assist and heated side mirrors with turn-signal indicators.
Available Colors
In general, you'll get a rather tame color palette to work with. Your color options include:
• Absolute Black
• Admiral Blue
• Urban Gray
• Pomegranate Red
• Linen Beige
• Olympus Silver
• Frost White Pearl
What's great is all these colors are available on every trim. You won't be restricted by the one you choose.
Engine Choice
The only engine choice available is the 1.6L 4-cylinder engine. It's capable of 120 HP and 113 lb-ft of torque. This is an adequate engine, especially if you just need the Accent for everyday chores and activities. The engine is definitely not a monster, but it's decent for everyday driving. All trims come standard with front-wheel drive and you can either get a 6-speed manual or continuously variable automatic transmission.
Fuel Economy
Because the engine isn't that powerful, you can expect the fuel economy to be great. So when it comes to gas efficiency, the 2020 Hyundai Accent doesn't disappoint. This sedan gets 33 MPG in the city and 41 MPG on the highway. If you get the 6-speed manual transmission, then you'll get 29 MPG in the city and 39 MPG on the highway.
Either way, you won't have to spend an excessive amount on gas if you choose to purchase this vehicle. Plus, the 2020 Hyundai Accent holds almost 12 gallons of gas, so you can travel for over 400 miles before you need to stop and refuel.
Interior Room
Earlier, we mentioned that this sedan is a subcompact one. However, it definitely won't feel like one when you're inside! This vehicle seats 5 and both front and rear passengers will enjoy plenty of both head and legroom. You'll get 42.1 inches for front legroom and 38.9 inches for front headroom, while you'll get 33.5 inches for rear legroom and 37.3 inches for rear headroom.
As far as cargo room goes, you'll get plenty of space. Right behind the back seats, you'll get 13.7 cubic feet of space. If you fold them down, then you'll be able to fit longer and larger items in the back. There are a few areas throughout the vehicle where you can store small items. For instance, there are narrow door pockets and cupholders in the center console and between the front seats. If you need more, you can upgrade and have extras in the rear seats.
Safety on the Road
The 2020 Hyundai Accent received an overall safety rating of 4 out of 5 stars from the NHTSA. It received 4 stars for both the frontal crash and rollover ratings, and a 5 for the side crash rating. Do note that rear passengers may be at risk in the event of a side-impact accident.
At the time of writing, there are no recalls, nor are there open investigations or complaints. Safety features that come standard with the 2020 Hyundai Accent are traction and stability control, EBD, and ABS. Also, you'll get 6 airbags.
Purchase a New 2020 Hyundai Accent
The new 2020 Hyundai Accent is a great sedan to own. Not only is it very safe on the road, but it also has fantastic trim options and great fuel economy. If you have any questions, don't hesitate to contact us!