The New 2023 Hyundai Elantra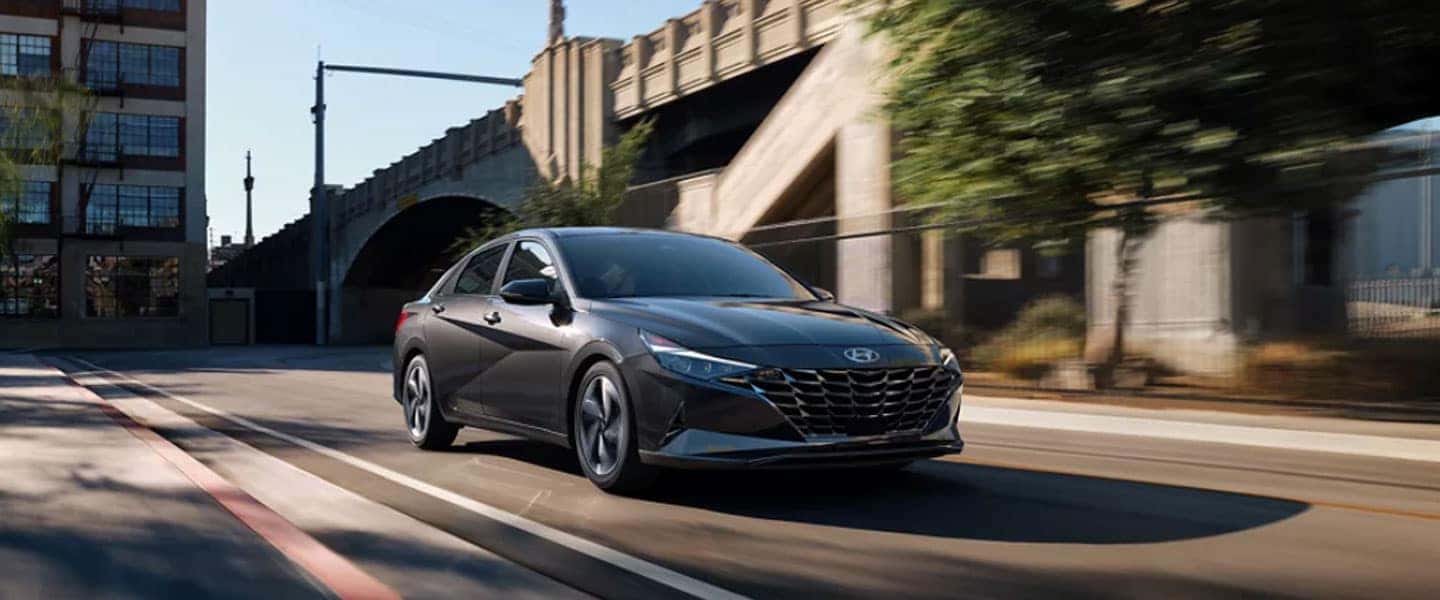 The 2023 Hyundai Elantra provides the perfect balance between fuel economy, top-notch safety, and standout comfort levels. It is, therefore, suitable for driving on your daily commute without depleting your cash balance. The compact sedan features a unique exterior design that makes it stand out from its competitors.
It features a four-cylinder, turbocharged engine, even though hybrid models have electric motor options. Vehicles with gas engines have a CVT or dual-clutch transmission, depending on the trim level. There are six trim levels for the 2023 Hyundai Elantra, including the SE, SEL, Blue Hybrid, Limited, N-Line, and Limited Hybrid.
All six trim levels of the 2023 Hyundai Elantra are available at Patriot Hyundai. So, you should be able to find the type of vehicle you need without struggling too much. While the 2023 Hyundai Elantra performance is enviable, it doesn't have the same driving verve as some smaller vehicles in the same group.
The Elantra Evolution: Highlights of the 2023 Model
Hyundai has been producing the Elantra for over three decades, since 1990. The first-generation Elantra lasted from 1990 to 1994. From 1995 to 2000, the company released the second-generation Elantra with a proprietary Alpha II engine. The third-generation Elantra lasted from 2000 to 2006. Since then, there have been four other generations of the vehicle, of which the one released in 2020 is the latest.
The 2023 Hyundai Elantra features a few minor changes that make it possible for the manufacturer to offer the same great vehicles without drastic additions. For example, Hyundai has gotten rid of the manual transmission from the N-Line model, providing only a dual-clutch option. Plus, the SEL and N-Line now have enviable 10.3-inch infotainment systems. Plus, the SEL Convenience model replaces 16-inch wheels with fresher 17-inch options.
Drive with Confidence: The 2023 Hyundai Elantra Performance
The lower non-hybrid Hyundai Elantra SE and SEL trims feature a 2.0-liter, four-cylinder, 147hp engine with 132 pound-feet of torque. In the sportier Hyundai Elantra Limited and N-Line, there's a smaller 1.6-liter turbocharged, 201hp engine with 195 pound-feet of torque. The 2.0-liter engine has a continuously variable transmission (CVT), while the 1.6-liter turbo has a dual-clutch transmission (DCT).
Blue and Limited Hybrid have a 1.6-liter gas engine and a 240V, 139hp electric power train. Instead of a seven-speed transmission like the one in the N-Line, the hybrid models have a six-speed DCT. Therefore, the 2023 Hyundai Elantra performance for the hybrid models may not be that impressive.
Step Inside Elegance: The 2023 Elantra Interior Features
Overall, the 2023 Hyundai Elantra features a uniquely futuristic interior with a center console and dashboard that appears to wrap around the driver. On the passenger side of things, the 2023 Elantras interior features are rather minimalistic. In the rear seat, passengers get generous space, thanks to the manufacturer's resolve to make it roomier.
The five-seater vehicle has plenty of leg, head, shoulder, and hip room to comfortably accommodate adults on long trips. Fabric-upholstered bucket seats are featured in the SE and SEL trims. On the other hand, the Limited and N-Line have optional leather seat upholstery.
Stay Connected on the Go: The 2023 Elantra Technology Upgrades
The 2023 Hyundai Elantra has a generous serving of top-notch technology Features, including a 10.3-inch digital display and an additional 10.3-inch touchscreen. With the new infotainment display, Hyundai integrates standard Android Auto and Apple CarPlay. Using the voice recognition feature, the driver can turn on and off climate control and heated seats
Besides entertainment, there are several other 2023 Elantra technology upgrades geared toward providing a safe driving experience. There is a navigation system in the N-Line, which combines with steering wheel audio controls to help the driver focus on the road ahead. The AC, cruise control, climate control, power mirrors, power driver seat, and keyless entry are also standard.
Safety and Modern Features in the 2023 Elantra
Standard safety features for the 2023 Elantra include a backup camera, blind spot monitor, lane-keeping assist, lane departure warning, ABS, stability control, tire pressure monitor, brake assist, and traction control. These features run across all the trim levels from the least to the most advanced.
It also has front, side, and overhead airbags to prevent serious injuries during an accident. Thanks to the work that went into building such a safe vehicle, the 2023 Hyundai Elantra received an NHTSA five-star rating for overall safety. That means it's safer than many other small vehicles on the market today.
2023 Hyundai Elantra Trim Levels
There are many reasons to buy the 2023 Hyundai Elantra, including its modern design and user-friendly state-of-the-art tech features. While you can get greater fuel economy and responsive performance from the Hyundai Elantra, there are differences among the trim levels of which you must be aware. Check out the models below before choosing one
2023 Hyundai Elantra SE
The 2023 Hyundai Elantra SE gives you access to the best tech features without breaking the bank. It has device compatibility features like Apple CarPlay and Android Auto, helping you play music directly from your phone. Plus, it has top-notch safety features for your protection while on the road.
Standout features:
Forward Collision-Avoidance Assist with Pedestrian Detection (FCA-Ped) automatically applies the brakes to prevent collisions with both vehicles and pedestrians.
Blind-Spot Collision-Avoidance Assist (BCA) provides warnings, takes corrective actions, and minimizes the risk of accidents.
2023 Hyundai Elantra SEL
The 2023 Hyundai Elantra SEL stands out for additional assistance features like hands-free trunk release, which provides very convenient operations. Plus, the proximity key makes it possible to hit the road virtually uninterrupted. Its eye-catching exterior features 16-inch alloy wheels, making the vehicle always stand out. Finally, you can customize seating position, temperature, and other start presets using Bluelink.
Standout features:
Access your car's auto apps and features on the 8-inch display without taking your hands off the wheel through the car's hands-free operation capabilities.
The Remote Start feature allows you to start your car from inside your home or office with the push of a button, letting you warm up or cool down your car before you get in.
2023 Hyundai Elantra Blue Hybrid
Besides a 1.6-liter gasoline engine, the 2023 Hyundai has an electric motor powered by a 240V lithium battery. The electric power train can deliver an enviable 139hp, helping you save fuel. Its combined fuel economy is 58 miles per gallon. The Blue Hybrid has more standard tech and safety features, just like the gas-only configurations.
Standout features:
Its hybrid powertrain with 58MPG fuel economy can save you money on gas.
You reduce your carbon footprint by using less fuel and emitting fewer greenhouse gases.
2023 Hyundai Elantra Limited
The 2023 Hyundai Elantra Limited provides a unique combo of autonomy, luxury, and control. For instance, the smart cruise control feature lets you unwind while returning home after spending the day in the office.
Standout features:
Features a Bose Premium Audio system for extra depth to your music, no matter where you travel. All of that while sitting comfortably on the leather-trimmed seats.
Get a more comfortable and safer driving experience with Hyundai's Smart Cruise Control on your long road trips. This feature helps you maintain a set speed and distance from the vehicle in front of you.
2023 Hyundai Elantra N-Line
With a 1.6-liter turbocharged engine that delivers 201hp, the N-Line surpasses all other trim levels in athleticism. It can quickly overtake other cars on the highway without appearing to get tired. But that's also a result of its racing-inspired shape. Buy the N-Line if all you want is blazing speed.
Standout features:
Its racing-inspired shape gives the Hyundai Elantra N-Line a sporty and aggressive look that stands out from other sedans and reflects its beastly performance.
Its 1.6-liter, 201hp turbocharged engine delivers powerful and responsive acceleration that can compete with larger engines on the back of remarkable fuel efficiency.
2023 Hyundai Elantra Limited Hybrid
Equipped with a 1.6-liter turbocharged engine and a 139hp powertrain, what the Limited Hybrid lacks in fuel economy, it compensates for in terms of standout luxury levels.
It features leather trim upholstery and a power-adjustable driver's seat.
There's also a state-of-the-art entertainment system to give you relief from daily stress and strain.
Customizing Your 2023 Hyundai Elantra at Patriot Hyundai
We offer vehicle customization services without interfering with the 2023 Hyundai Elantra performance. Customization helps you uniquely experience your vehicle by changing basic things like seat covers, etc. The following customization services are available from Patriot Hyundai.
Steering Wheel Cover
We can install the steering wheel for you with a cover of your choice. Besides the color, you'll select a steering wheel cover that matches or compliments other elements in the vehicle's interior, like the seats and dashboard.
Seat Covers
If you're not satisfied with how your seats look, or you just want to protect them, getting custom seat covers is the best option. You can use the new seat covers to add a personal touch to the vehicle. For example, you may use leather seat covers on the fabric seats of the Elantra.
Floor Mats
Floor mats protect your car's interior and support passenger comfort. They are also critical to keeping the car's interior clean and comfortable. We have a variety of floor mats from which you can choose based on materials, color, and texture.
Sound System
If your car lacks an excellent sound system, we can help you upgrade it. Whether you want better speakers, an after-market amplifier, subwoofers, or tweeters, we have everything you need. All you need to do is tell us what you want.
Why Choose Patriot Hyundai for Your 2023 Hyundai Elantra?
Where else can you get the 2023 Hyundai Elantra than at Patriot Hyundai? We have the entire range of trim levels for this vehicle, giving you the opportunity to select the very best. Here are the top reasons why choosing us over the competition makes sense.
New Vehicles/Used Vehicles
At Patriot Hyundai, you'll find zero-mileage vehicles in this range. We also have slightly used vehicles, which you can purchase or lease based on your needs. Besides stocking all the 2023 Hyundai Elantra trim levels, we have many other vehicles for you to choose from.
Car Financing
Do you need to finance the purchase of an Elantra? Patriot Hyundai can arrange for affordable car finance to enable you to drive off with a car, no matter how financially hard-pressed you might be. Plus, we have a leasing option if that's what you want.
Service
There's a reliable service center at Patriot Hyundai. Here, you'll get regular oil changes and vehicle repairs. As a Hyundai-authorized service center, Patriot Hyundai only stocks genuine Hyundai parts. We also have expert staff. You'll never have to worry about counterfeit parts.
Customer Service
Patriot Hyundai clients can provide feedback via a chat function or fill-in form on the website. After sending a message, you'll either get an instant reply or wait for a while for an email message. Plus, you can call Patriot Hyundai at any of the provided phone numbers.
Experience the 2023 Hyundai Elantra for Yourself
There's no better way to get first-hand experience with the 2023 Hyundai Elantra than visiting Patriot Hyundai online or in-store. Besides all the Elantra models, we have other Hyundai vehicles in which you might be interested. Examples include the Hyundai Elantra, Hyundai Sonata, and Hyundai Santa Fe.
Reach out to us by leaving us message on our website or calling us at 918-347-1105.