The New 2024 Hyundai Palisade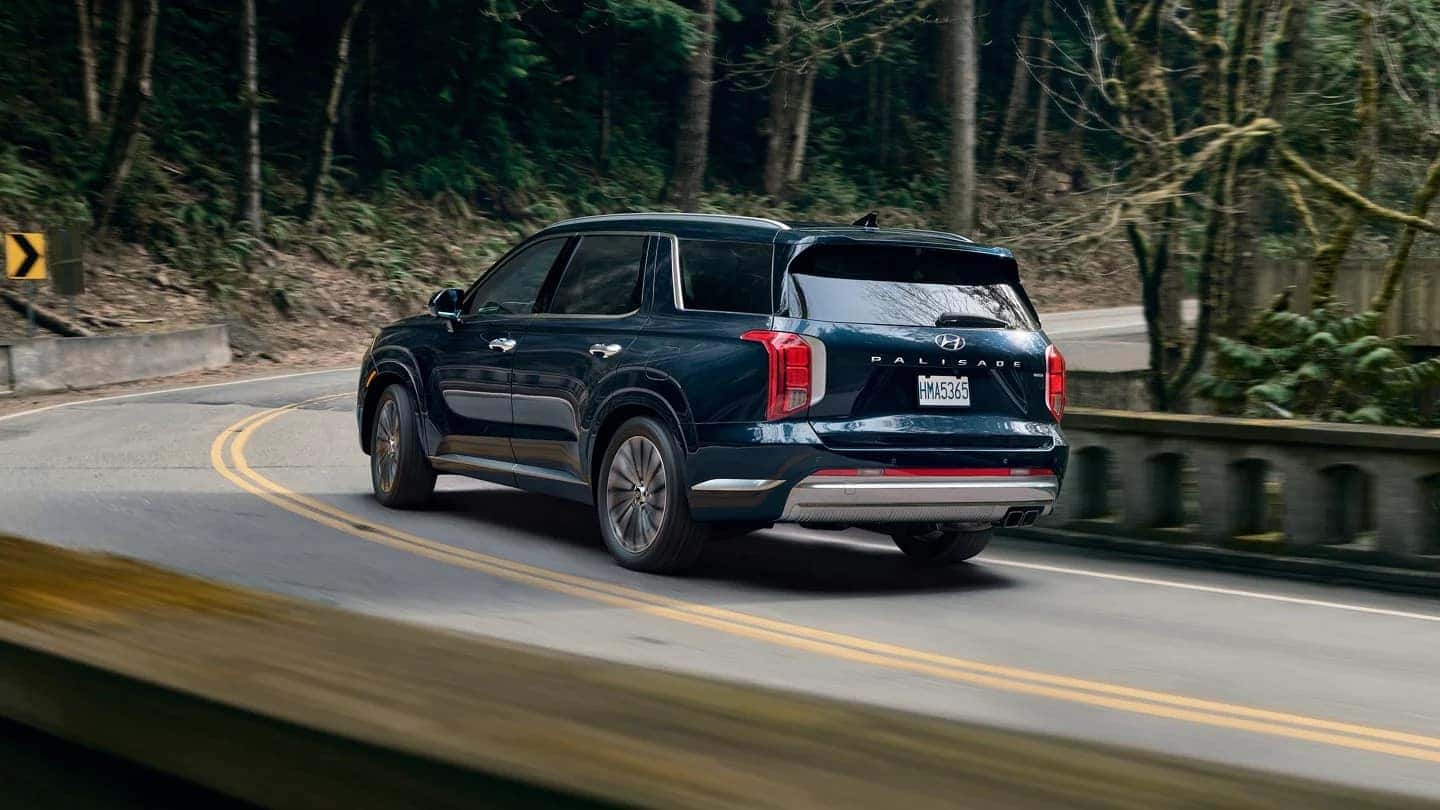 The 2024 Hyundai Palisade is a stunning upgrade of the carmaker's popular crossover SUV. This 3-row, 7-seater beast received a considerable facelift over Palisade's 2023 iteration.
A revised front end gives the 2024 Hyundai Palisade an imposing, almost reptilian look that makes it instantly eye-catching and more masculine than other SUVs. The South Korean carmaker also went all out to deliver value to customers.
While the 2024 Palisade's top models boast premium features rivaling those of their luxury counterparts, even the base models pack in plush interiors and an enhanced 12-inch infotainment system, along with the full suite of all the standard features.
Now available at Patriot Hyundai in Bartlesville, OK, the 2024 Palisade comes in six trims – SE, SEL, XRT, Limited, Calligraphy, and Calligraphy Night Edition. A strong masculine appeal and an intimidating presence ensure that the 2024 Hyundai Palisade owns any road that it travels on.
The Journey of the Hyundai Palisade: Leading Up to 2024
The Hyundai Palisade first went into production in 2018 as the South Korean car maker showcased what would become its flagship crossover SUV at the Los Angeles Auto Show. In 2020, the company released the first cars in this unique line. Since then, it has released new cars into the U.S. market each year, with the 2024 Hyundai being the latest.
Grandmaster Makes Way for the Palisade
The vehicle's unique design borrowed heavily from a project called the Hyundai Grandmaster, which represented the company's look into the future of SUV design. It's, therefore, not surprising that the Palisade has maintained the perfect combination of styling and technology over the years. So, it shouldn't surprise you that the 2024 Hyundai Palisade features are largely unmatched.
Although there have been Hyundai Palisade releases in 2020, 2021, 2022, and 2023, the 3.8-liter, 291hp, V6 engine is a constant. The 2024 Hyundai Palisade features a V6 engine. However, there have been changes in the tech features between the first generations of the Palisade and the succeeding generations. For 2024, the company has introduced the Hyundai Palisade Calligraphy Night Edition with top-notch luxury features.
Inside the 2024 Hyundai Palisade: Luxury Meets Functionality
With standout interior features, there's no reason why the 2024 Hyundai Palisade shouldn't be the luxury vehicle of choice for most buyers. Across the trims, the vehicle is very impressive in its interior.
Interior Space
The 2024 Hyundai Palisade is an eight-seater SUV that comes with ample interior space. It has impressive leg and headroom across the trims. Making it comfortable for the young and the old alike. The standard leather seats (only the SE lacks them) are breathable, comfortable, and luxurious.
In the second row, there's a button for moving the captain's seat back and forth for improved accessibility in the third row. On the SEL, there are optional power-folding seats in the second and third rows. In the Limited, Calligraphy, and Calligraphy Night Edition, these seats are part of the standard features.
The Palisade's unique design locks out noise from the road, keeping the interior exceptionally quiet. Besides having the capacity to carry more passengers, the vehicle is an impressive cargo hauler. Its cargo space increases to 86 cubic feet. With the third row folded and the second row in use, the cargo space is up to 46 cubic feet. The vehicle offers 18 cubic feet of cargo space with all seats in use.
Technology Features
As part of the 2024 Hyundai Palisade technology features, the vehicle has a 12.0-inch infotainment display, SiriusXM satellite radio, a Wi-Fi hotspot, Apple CarPlay, Android Auto, and Bluetooth connectivity across the trims. Thanks to the Blue Link app, it's possible to lock, unlock, and start the 2024 Hyundai Palisade remotely via Google Assistant or Amazon Alexa.
Comfort Elements
Besides performance, the comfort features make the 2024 Hyundai Palisade sought after by those looking for a luxurious yet high-performing SUV. Its comfort elements include a head-up display, steering wheel audio controls, a power liftgate, and adaptive cruise control. All the front and rear seats are cooled and heated to provide users with the right ambiance. Seat massage is available on the Calligraphy and Calligraphy Night Edition trims.
Performance Metrics: Engine, Horsepower, and Efficiency
All six trims of the 2024 Hyundai Palisade have a standard 3.8-liter, 291hp V6 engine. Thus, it delivers impressive power, accelerating adequately in the city and on the highway. Its eight-speed automatic transmission also allows manual shifting using handy paddles on the steering wheel. Therefore, this vehicle allows for more driver involvement in ways other SUVs don't.
The default configuration allows the gearbox to shift smoothly and autonomously. When hill-climbing, the vehicle tends to shift into an unexpectedly busy shuffling of the gear ratios. But that isn't anything bad, as it ensures that the vehicle can successfully ascend steep slopes. The all-wheel drive vehicles can move between zero and 60mph in only 6.4 seconds. They decelerate from 70mph to zero after 161 feet.
Besides the impressive 2024 Hyundai Palisade performance, this vehicle is relatively economical to drive. In the city, it delivers 19MPG. On the highway it can go 26 miles per gallon. The combined fuel economy of the vehicle is 22MPG. The tank fills with 18.8 gallons of fuel, which can last you up to 357.2 miles in the city and 488.8 miles on the highway. Therefore, it's great for both on-road and off-road long-haul trips.
Advanced Safety: The 2024 Hyundai Palisade's Commitment to Protection
The 2024 Hyundai Palisade's safety technology includes the industry's top-notch features as part of the standard package. The higher trims have more advanced features that not only protect drivers and passengers but also ensure a safe ride.
Standard features include a backup camera, cross-traffic alerts, rear parking aid, ABS, lane-keeping assist, brake assist, traction control, stability control, and a tire pressure monitor. It also has driver, front head, front side, knee, passenger, rear head, and rear side airbags.
2024 Hyundai Palisade Trims
All trims have a standard front-wheel drive orientation. While the higher trims have all-wheel drive as standard, and is optional in the SE, SEL, and Limited trims. There's trailer pre-wiring and a transmission cooler in all the available 2024 Palisades. All offer a smooth ride and quiet cabin, both on the road and off-road. They can handle rough terrain more smoothly than their peers in the crossover range.
2024 Hyundai Palisade SE
The 2024 Hyundai Palisade SE is a midsize SUV that offers a blend of utility, value, and luxury. It also has a spacious and upscale interior that can accommodate up to eight passengers with a second-row bench seat.
Standout features:
Advanced driver aids (forward collision warning, automatic emergency braking, a blind-spot monitor, and more) promise maximum driving safety.
A set-and-forget Dual-zone Automatic Climate control system provides separate temperature settings for different zones in the car.
The turn signals in auto-dimming mirrors dim when headlights approach from behind.
2024 Hyundai Palisade SEL
The 2024 Hyundai Palisade SEL is a midsize SUV that offers a spacious and upscale interior, a smooth and powerful engine, and a large touchscreen display with navigation.
Standout features:
Hyundai Digital Key lets you use your smartphone as a key to unlock, start, and share your vehicle.
Ultrasonic Rear Occupant Alert alerts you if there are passengers or pets left in the rear seats when exiting the vehicle. It also sends a notification to your smartphone via Bluelink if the vehicle senses movement in the rear seats after locking the doors.
2024 Hyundai Palisade XRT
The 2024 Hyundai Palisade XRT is a midsize SUV with a dark front grille, XRT exclusive lower bumpers and door garnish, and 20-inch XRT exclusive wheels.
Standout features:
Self-leveling rear air suspension gives a comfortable and stable ride by automatically adjusting the suspension to maintain a level vehicle.
You can enjoy a panoramic open-air experience, providing fresh air and natural light, thanks to the car's power sunroof.
Rear-side window sunshades provide shade and privacy for rear-seat passengers, keeping the interior cool and comfortable while protecting against glare and UV rays.
2024 Hyundai Palisade Limited
The 2024 Hyundai Palisade Limited is a premium midsize SUV that offers a luxurious and spacious interior, advanced technology, and safety features. It has everything that the SEL trim has, plus some exclusive additions.
Rain-sensing wipers automatically adjust their speed and frequency according to the amount of rain on the windshield.
Dual-pane sunroof lets in more natural light and fresh air and has a power sunshade to control the brightness.
The seats, door panels, and steering wheel are covered with high-quality leather for a refined and comfortable feel.
2024 Hyundai Palisade Calligraphy
The Calligraphy is a sophisticated expression of the Hyundai Palisade, elevating it to a new level of luxury and sophistication. The 2024 Hyundai Palisade Calligraphy stands out with its exclusive 20-inch alloy wheels, distinctive front and rear styling, elegant puddle lamps, and stunning rear accent lighting.
Standout features:
Its interior is a masterpiece of craftsmanship and comfort, featuring soft Nappa leather seats, a driver's seat with a massage function, quilted leather door panels, and a microfiber suede headliner.
Remote Smart Parking Assist parks the vehicle for you with the touch of a button. You can even use it outside the vehicle to pull your Palisade out of a tight spot without getting in.
2024 Hyundai Palisade Calligraphy Night Edition
The Calligraphy Night Edition adds AWD to the 2024 Hyundai Palisade for enhanced traction and performance in all weather conditions. It also features dark-tinted exterior trim and body parts that give it a bold and aggressive look. The exterior colors are limited to Abyss Black and Hyper White, creating a striking contrast with the dark accents. The Calligraphy Night Edition is the most exclusive and luxurious Palisade ever made, and it will surely turn heads wherever you go.
Standout features:
Snow mode in the AWD system distributes torque between the front and rear axles and controls the left and right wheel-slip. It also has a locking differential that improves traction when engaged.
The rearview mirror of the Calligraphy Night Edition is connected to a rear-facing camera, which projects an image of what is behind the vehicle.
Why Choose Patriot Hyundai for Your 2024 Hyundai Palisade
Patriot Hyundai is your number-one Hyundai Dealer of Bartlesville OK, so you've got no reason to look elsewhere for your 2024 Hyundai Palisade. The following are the top reasons to stick with us for your next car purchase or lease.
If you're looking for a zero-mileage brand-new car, Patriot Hyundai is your go-to partner. If you need financing for your vehicle, Patriot Hyundai can be the perfect partner. You can access car loans to easily own a vehicle or lease deals if all you want is a vehicle to drive for a while. We have extensive experience dealing with Hyundais and have been appointed an official service center.
There's nowhere better than Patriot Hyundai for all things Hyundai. Visit us online or in-person to get a feel for what we have to offer.