The New 2024 Hyundai Tucson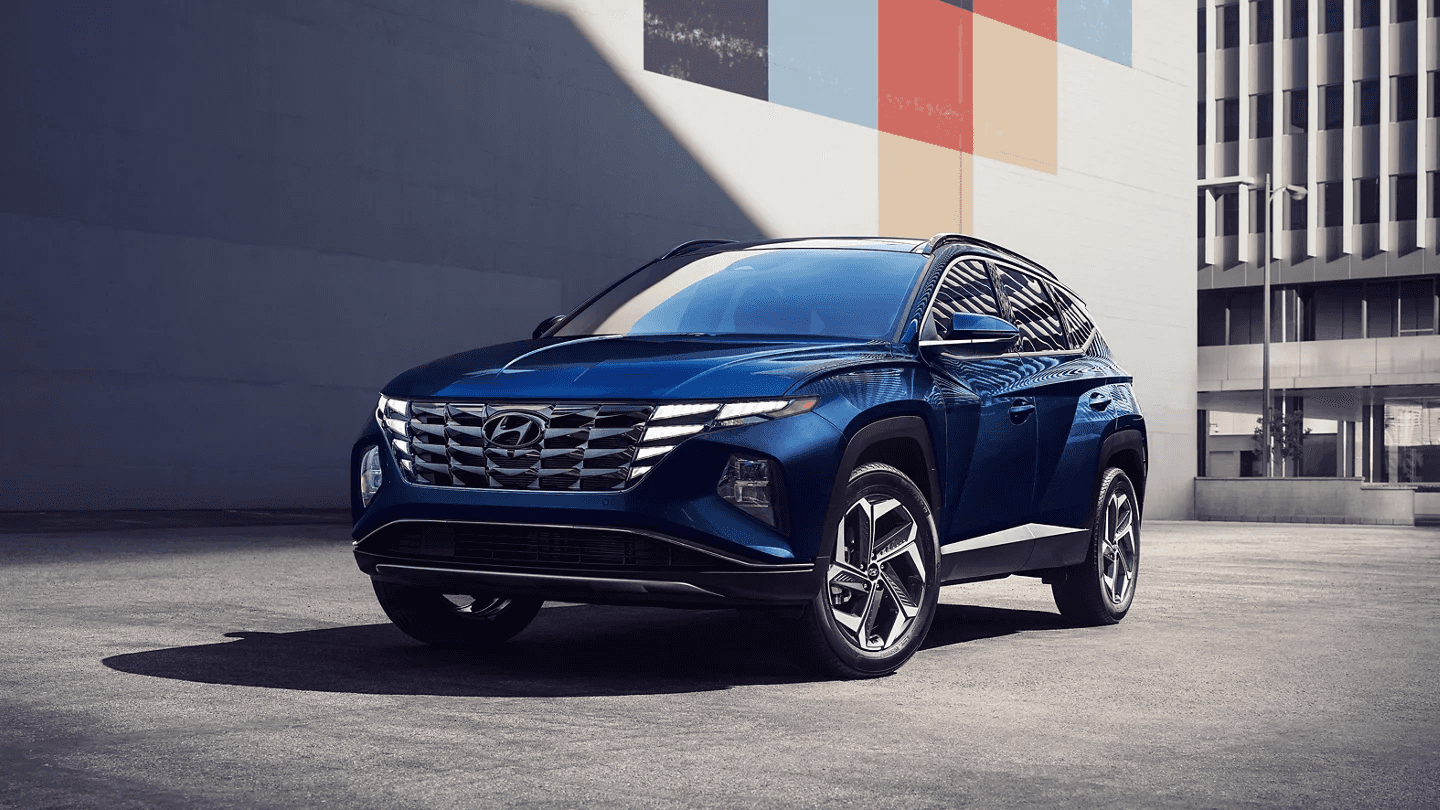 The 2024 Hyundai Tucson is here with a series of improved features from the 2023 model. Some new features that stand out are the safety features, such as rear side airbags, steering-wheel haptic feedback for driver alerts and warnings, rear and front seatbelt reminders, lane-keeping assist, and blind spot monitoring.
Trims such as the SEL Convenience, XRT, and Limited trims feature a 10.3-inch touchscreen. All the trims enjoy dual automatic temperature control and auto-defogging functions. Connectivity features on the 2024 Tucson are Android Auto, Apple CarPlay, Backup Camera, and Bluetooth.
Wondering where to buy the new 2024 Hyundai Tucson? The 2024 Hyundai Tucson models are now available at Patriot Hyundai. Patriot Hyundai is a Hyundai dealership where you can explore different models of the 2024 Hyundai Tucson and other Hyundai vehicles. The dealership is focused on customer satisfaction with a team of friendly, professional, and well-trained employees. The pricing is transparent, with a flexible payment plan.
The Evolution of the Hyundai Tucson: A Look into the 2024 Model
Hyundai released the first generation of its SUV, the Tucson, in 2004. The second generation of the Hyundai Tucson was released in 2010 and 2015. The third generation was launched in 2015–2021, and the fourth generation, the latest generation, in 2022. The 2024 Hyundai Tucson model belongs to the fourth generation of the Tucson family.
Some of the notable milestones on the 4th generation Tucson include the advanced 2024 Hyundai Tucson technology features, safety features, and infotainment features. Also, the size is bigger compared to the predecessors. The current length has increased by 150 mm, the height by 5mm, and the width by 15mm.
Tech-Savvy and Advanced: The 2024 Hyundai Tucson Technology Features
The 2024 Hyundai Tucson has cutting-edge technology to enhance your driving experience. Some of the smart features inside the cabin include an 8.8-inch touchscreen on the dashboard with Apple CarPlay and Android Auto.
Also, there is an option for a larger 10.3-inch screen with in-built navigation for premium trims. The larger display integrates a SiriusXM satellite radio and an upgraded Bose stereo system. Also, some trims feature a voice activation feature. It recognizes commands without forcing you to use specific prompts. Additional features of the premium trims include real-time traffic updates and voice recognition.
Another 2024 Hyundai Tucson technological feature is Hyundai's digital key smartphone app for locking, unlocking, and remote start.
The 2024 Hyundai Tucson driver aids are another smart feature worth noting. Features such as adaptive cruise control and the blind-spot warning system are useful during tight traffic. Also, the rear and front parking sensors will keep you from hitting objects or other cars.
Comfort and Elegance: Exploring the 2024 Hyundai Tucson Interior
The 2024 Hyundai Tucson interior is one of its strengths. Over the years, it has grown from being the least expensive in its class to the largest. The SUV has a bigger passenger volume. It can transport up to five passengers and has ample legroom in the rear for adults. The crossovers give passengers so much comfort, and the seats are comfortable, well-designed, and pleasant for long drives. The limited trim levels have superior seat materials, giving it a luxury vehicle feel.
The luggage space at the back is quite spacious for its class. The luggage space has a capacity of 38.7 cubic feet and is expandable to 74.8 cubic feet, with the rear seats folded.
The dashboard is simple yet modern. It features a push-button shifter, a digital display for gauges, and a touch-sensitive control screen for entertainment and climate control.
Safety and Modern Features in the 2024 Tucson
Hyundai is committed to safety, and the 2024 Hyundai Tucson has incorporated active safety features. Some standard safety features are automatic emergency braking, automatic high beam assist (HBA), forward collision avoidance (FCA) with cyclists and pedestrian detection, lane-keeping assist (LKA), driver attention warning (DAW), and rear occupant alerts. The optional safety features are the back cross-traffic collision alert (RCCA), monitoring for blind spots (BCA), and smart cruise control (SCC) available for higher trims.
Additional safety features and technology for the limited models are lane centering and remote smart parking. The Remote Smart Parking Assist helps the driver park using their smartphone and can retrieve the car from a tight parking spot while outside the vehicle.
The 2024 Hyundai Tucson has yet to receive a safety rating from the National Highway Traffic Safety Administration (NHTSA). However, the almost identical 2023 Hyundai Tucson received a 5-star safety rating. So, based on the rating of the 2023 Tucson, the 2024 Hyundai Tucson stands to have a good safety rating.
Customizing Your 2024 Hyundai Tucson at Patriot Hyundai
You can customize your 2024 Hyundai Tucson at the Patriot Hyundai dealership. Some of the custom features you can get include custom painting, interior LED lights, fog lights, and headlight covers. You can request customization to suit your desired style at the dealership. Visit the Patriot Hyundai dealership or online for more information on customization options.
2024 Hyundai Tucson Trims
The 2024 Hyundai Tucson is available in eight trim levels. The models include the SE, SEL, XRT, N Line, and Limited with a conventional 2.5-liter and four-cylinder engine (187 horsepower). Other trims, the Blue Hybrid, SEL Convenience Hybrid, and Limited Hybrid, have a turbocharged 1.6-liter gas engine and an electric motor with 227 horsepower.
2024 Hyundai Tucson SE
The 2024 Hyundai Tucson SE boasts a range of impressive features that make it a top-of-the-line SUV. The LED headlights provide excellent visibility, while the 8-inch touchscreen display makes it easy to control the car's many features. This is one beast that is a powerful and stylish SUV and sure to impress.
Standout features:
Lane-keeping assistance steers the car back to its lane when it starts drifting over the marked lane.
Forward collision mitigation warns of an imminent collision. It will automatically apply emergency brakes in some scenarios.
Adaptive cruise control maintains the distance the driver sets between the Tucson and the car in front.
2024 Hyundai Tucson SEL
The 2024 Hyundai Tucson SEL trim comes in the Premium package and the Convenience package. Both packages have a combination of luxury and technological features for an elevated driving experience.
Standout features:
Ample headroom and legroom for both front and back seats.
Blind spot intervention and warning with a rear cross-traffic warning
2024 Hyundai Tucson XRT
The 2024 Hyundai Tucson XRT trim comes in two models: the XRT 4dr Front-Wheel Drive and the XRT 4dr All-Wheel Drive. The Trim is almost identical to the SEL model.
Standout Features:
A mighty engine with 187 horsepower at 6100 RPM. With 178 lb-ft of torque at 4000 RPM, this beast effortlessly conquers any terrain.
A silky-smooth 8-speed automatic transmission that blends power with precision.
Equipped with roof rails, 19-inch wheels, and black exterior accents, this SUV exudes rugged charm.
2024 Hyundai Tucson Hybrid Blue
The 2024 Hyundai Tucson Hybrid Blue is almost similar to the SEL model. However, it is powered by a turbocharged gas engine and an electric motor for optimum mileage and performance. It features a 10.25-inch touchscreen infotainment display.
Standout features:
State-of-the-art safety features include a blind spot monitor, lane keeping assist, rear parking aid, driver attention alert, tire pressure monitor, backup camera, night vision, stability control, and lane departure warning.
Both the front and rear seats have safety alerts and reclining seats.
2024 Hyundai Tucson Hybrid N Line
The 2024 Tucson Hybrid N Line has a sporty look with a hybrid engine and a stylish interior and cabin. The model's highlights include 19-inch wheels, a 2.5-liter four-cylinder, a turbocharged 1.6-liter hybrid four-cylinder, and 226 horsepower and 258 pound-feet of torque.
Standout features:
2024 Hyundai Tucson interior includes a leather steering wheel, steering wheel audio controls, and a heated front seat and delivers a brilliant driving experience.
Premium Bose audio system for the ultimate music listening experience.
2024 Hyundai Tucson Limited
The 2024 Hyundai Tucson Limited model comes with impressive features such as 19-inch alloy wheels, projection LED headlights, leather upholstery, heated rear seats, paddle shifters, a heated steering wheel, a surround-view camera system, a 10.25-inch touchscreen navigation system, and rain-sensing wipers.
Standout features:
Panoramic Sunroof elevates your driving experience with the open sky above.
Expanded Ambient Lighting lets you set the perfect mood inside your car for any occasion.
Surround View Monitor (SVM): Navigate with ease and precision using a 360-degree view.
2024 Hyundai Tucson Plug-In Hybrid SEL
The 2024 Tucson Plug-In Hybrid SEL is a combination of features from the SEL and plug-in hybrid trims. It offers up to 33 miles of electric range.
Standout features:
Smart cruise control with stop-and-go helps you maintain your desired speed and spacing from the car ahead, even in stop-and-go traffic.
Adaptive cruise control lets you experience a stress-free commute with automatic speed adjustment to maintain a safe following distance from the vehicle in front.
Climate control maintains the perfect cabin environment, ensuring comfort in any weather condition with personalized temperature settings.
2024 Hyundai Tucson Plug-In Hybrid Limited
The 2024 Tucson Plug-In Hybrid Limited is a high-end model that combines the features of the Limited Trim and the plug-in hybrid. It offers 33 miles of all-electric range. The ride is comfortable, smooth, and quiet, with a much better sound system.
Standout features:
Never lose your way again, thanks to intuitive, real-time guidance to your destination through the Smart Navigation System.
With keyless entry, you get to enjoy the convenience and security of effortless access to your vehicle without fumbling for keys.
Maintain control and stability on slippery surfaces with Traction Control, enhancing safety and confidence in challenging driving conditions.
Why Choose Patriot Hyundai for Your 2024 Hyundai Tucson?
Are you considering purchasing a 2024 Hyundai Tucson? At Patriot Hyundai, you get a simplified shopping experience, thus saving you time.
We offer a wholly transparent pricing plan that makes your car shopping experience easy and fast. Patriot Hyundai allows you to spend minimal time at the dealership by allowing you to review the car details online.
Depending on the trim, you also get to enjoy some of the best-in-class financing offers for the 2024 Hyundai Tucson.
At Patriot Hyundai, we also let our customers test drive any vehicle at their own convenience. All you have to do is schedule your 2024 Hyundai Tucson test drive, and we will deliver the car to your doorstep so that you can take it for a spin.
Visit Patriot Hyundai for a pleasant and stress-free car buying experience
We love all our customers and understand that buying a car is one of the most exciting experiences of your life. So we go out of our way to make the car buying experience as pleasant as possible.
Our relationship doesn't end after purchasing. You get to use our auto services for a lifetime. Auto services offered at Patriot Hyundai also include genuine Hyundai spare parts and much more.
Explore the 2024 Tucson models firsthand. Our professional, knowledgeable, and friendly staff will guide you through the financing options and any other information you need. Call Patriot Hyundai today or visit our dealership in Bartlesville, OK.