The New 2022 Hyundai Santa Fe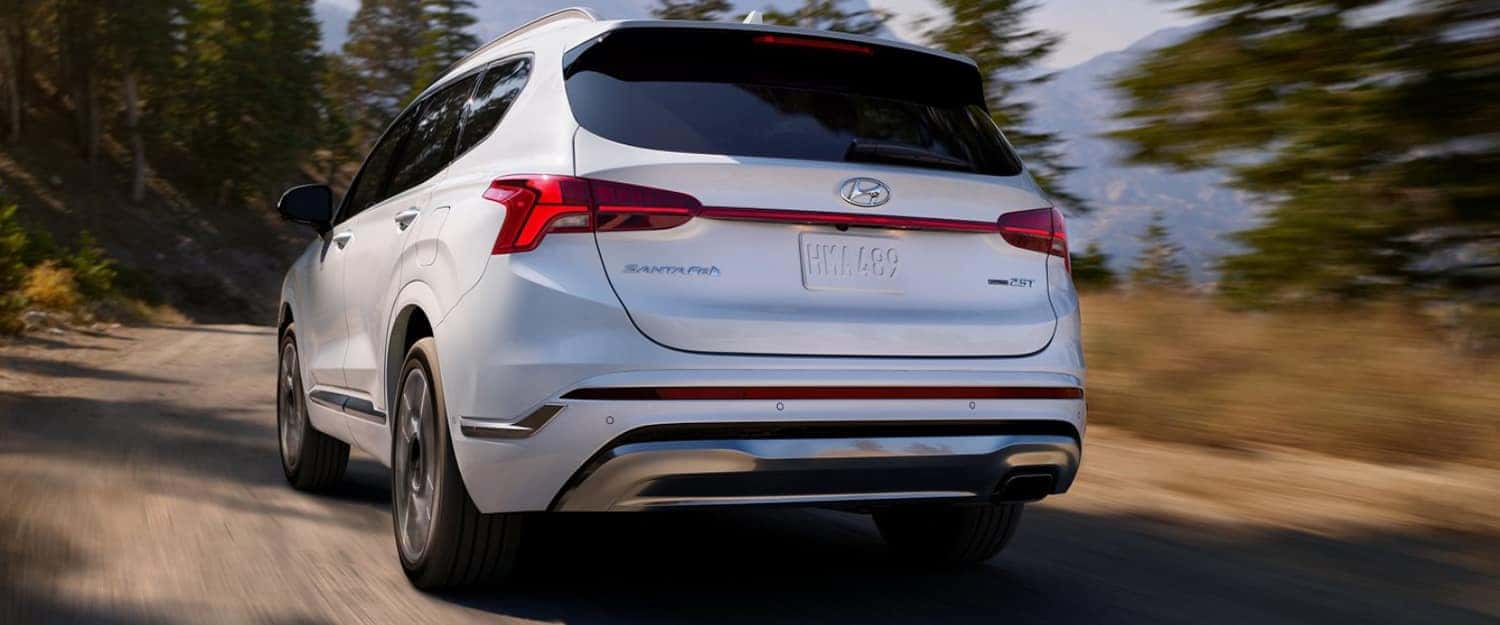 Are you looking for a stylish entry-level or a luxurious, feature-rich midsize SUV? If so, the new  2022 Hyundai Santa Fe could be the perfect vehicle to get you where you need to go.  After all, all 2022 Hyundai Santa Fe vehicles have a five-star NHTSA safety rating, so no matter which trim you choose, you're selecting a vehicle that's designed to keep you safe while on the road. The new generation of the Hyundai Santa Fe is bound to please thanks to smart upgrades and a handful of sleek exterior changes. Be sure to discover this year's new Hyundai Santa Fe at Patriot Hyundai in Bartlesville!
The New 2022 Hyundai Santa Fe
This year's model features some notable design changes, particularly with the Hyundai Santa Fe XRT. The sleek black molding integrated into the XRT gives it a sporty look and feel that separates it from commuter SUVs. But, of course, if you're looking for a vehicle that has it all, from safety features to attractive styling, you won't want to miss the Hyundai Santa Fe Calligraphy and its heated seats, ambient interior lighting, and sunroof.
Hyundai Santa Fe Trim Options
Here at Patriot Hyundai in Bartlesville, we're determined to provide the best new and used Hyundai vehicles. And if you've got your eye on the 2022 Hyundai Santa Fe, you'll want to check out all its trim options. There are five trim options are available for the new 2022 Hyundai Santa Fe: the SE, SEL, XRT, Limited, and Calligraphy. Each offers improved features, spacious interiors, and better maneuverability.  Let's take a close look to discover which might work for your needs and budget.
The 2022 Hyundai Santa Fe SE is the standard model, but that doesn't mean it lacks exceptional features and functions. And with a combined miles-per-gallon (mpg) of 26, you can enjoy longer periods between fuel stops. Still, one of the best things about the SE is its improved safety systems. This trim level offers a variety of safety tech to prevent accidents and keep you alert, including a driver attention warning (DAW) system. If you have a growing family, you'll also appreciate the dark-hued stain-resistant cloth seating. The fold-down second row of seats is also a fantastic option for those in need of larger cargo areas.
Standout Features
Upgraded safety tech: Comes with nine hi-tech safety protocols, including lane following assist (LFA) and driver attention warning (DAW) systems.
Stain-resistant seating: A kid-friendly touch that can help alleviate stress when accidental spills occur.
If you're willing to spend a little more, you can go home with the powerful, feature-rich 2022 Hyundai Santa Fe SEL. Though it gets the same mileage as the SE, the SEL has several worthwhile additions. The heated front seats can keep you warm while driving on cold days. The powered driver's seat adjustment system can ensure that you're always comfortable. Still, passengers are also bound to enjoy the ride.
That's because the SEL comes with wireless device charging capabilities, negating the need for long charging cables that can get in the way. This trim also offers a proximity key with a push-button start.
As such, you can warm up or cool down your car before hopping inside, and you won't need to spend several minutes attempting to crank the ignition once you're inside. What's not to love?
Standout Features
Heated seats: The driver's and front passenger's seats offer fast heating to keep you warm.
Wireless device charging: Don't worry about tangled charging cables ever again! You can charge most devices (like smartphones) wirelessly!
In many ways, the XRT is an upgraded revival of the 2018 Hyundai Santa Fe Sport. It has an off-road look (though, notably, it's not designed for off-road use) and upgraded safety components.
Still, the most noticeable differences between the XRT and SEL are aesthetic. The XRT features wraparound black trim, from a black grille to black side mirrors and alloy wheels. The roof cross rails are ideal for hauling extra cargo, including kayaks, bicycles, and hefty luggage. All in all, this vehicle is designed for active individuals with a passion for adventure.
Standout Features
New attractive exterior: Comes with black molding and roof rails. These are bound to attract outdoor adventurers.
Front and back skid plates: Offers improved body and fuel tank protection.
Are you looking for a stylish SUV that comes with tons of luxury features? If so, you may want to consider the 2022 Hyundai Santa Fe Limited. It has everything you need to drive comfortably, safely, and in style. From the extra padding on the driver's side seat to the heated steering wheel, it's challenging to think of anything this trim is missing.
From wide touchscreen displays to surround-view monitoring, there's plenty to love. You'll also find an expansive sunroof with UV protection, a feature that passengers are bound to enjoy. Even better, the Limited can keep you well-aware of blind spots thanks to its dashboard blind-spot view monitor.
Standout Features
Extensive sunroof: Passengers can enjoy panoramic views that let in plenty of sunlight while also blocking harmful UV rays.
Easy-to-read display: The 10.25-inch touchscreen display is large enough for easy viewing and is incredibly easy to operate.
Those looking to enjoy pure luxury will want to consider opting for the 2022 Hyundai Santa Fe Calligraphy. This sleek SUV is chock-full of impressive features, including colored ambient lighting and quilted leather seats. Still, one of the most notable new features of this trim is the heads-up display (HUD). This transparent display can help you navigate and keep an eye on your speed, all without taking your eyes off the road.
Overall, the Calligraphy offers the best of everything, including power-release second-row seats, a dynamic sunroof, hands-free trunk opening, a heated steering wheel, and side mirrors with indicator lights. Naturally, this trim level is also one of the priciest. If you're interested in owning a 2022 Hyundai Santa Fe Calligraphy, be sure to consider your financing options.
Standout Features
Quilted leather seats: Seats are made of premium Nappa leather, quilted to reduce general wear and tear.
An advanced heads-up display (HUD): Drivers never have to take their eyes off the road with the new, upgraded HUD.
Visit Patriot Hyundai in Bartlesville
We offer competitive financing and trade-in options to ensure you drive away from our lot in the car of your dreams. Our helpful and friendly staff are waiting to help you find the perfect Hyundai for your needs and budget. Contact us today to schedule a test drive or learn more about our lineup of new Hyundai vehicles. If you're interested in more of Hyundai's top models, be sure to check out our research hub!
We appreciate your interest in our inventory, and apologize we do not have model details displaying on the website at this time. Please fill the form out below and our team will quickly respond, or, please call us at 918-347-1105 for more information.